UC Irvine's Genius Plan To Mitigate Student Housing Crisis [Satire]
Posted on August 9, 2023
Housing Crisis
Satire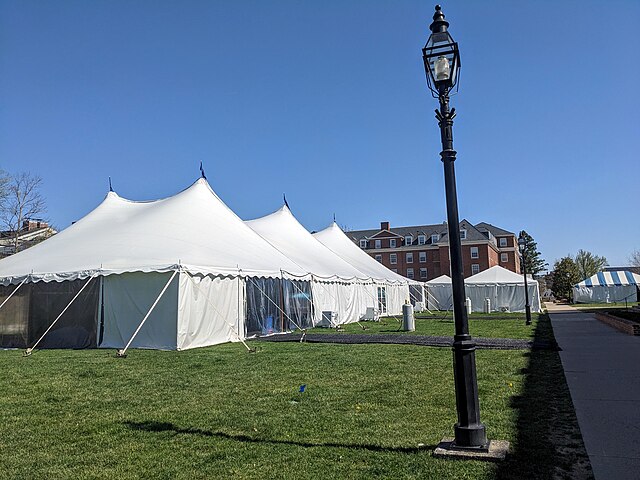 UC Irvine, CA - As part of its proactive approach to alleviate the student housing crisis, the University of California, Irvine, has unveiled plans to introduce an innovative solution: temporary tents in the picturesque Aldrich Park. In response to the escalating demand for affordable housing and limited on-campus accommodations, UCI aims to provide relief to students grappling with housing challenges, albeit with a unique twist.
Aldrich Park, renowned for its serene landscape and tranquil ambiance, is poised for a transformation as the university gears up to set up a limited number of sturdy, well-furnished tents. This forward-thinking initiative not only reflects the university's commitment to exploring unconventional strategies but also seeks to ease the immediate housing crunch faced by many students.
"The welfare of our students is paramount. The housing crisis has underscored the urgency of finding pragmatic solutions to support our student community. The concept of utilizing Aldrich Park for temporary housing emerged as an immediate measure while we work on long-term housing solutions," explained Dr. Emily Davis, UCI's Vice Chancellor of Student Affairs.
Each tent will be equipped with basic amenities such as electricity and Wi-Fi, ensuring a comfortable living environment. However, it's worth noting that these tents will not include private shower or bathroom facilities. To further aid affordability, the university is collaborating with local eateries and service providers to offer cost-effective meal options and essential amenities. Campus security and maintenance teams will be deployed to guarantee the safety and well-being of all tent residents.
Though unconventional, UCI officials are confident that this approach will not only address the housing crisis but also foster a strong sense of community among students. "Aldrich Park has always been a focal point of campus life. Transforming it into temporary housing will not only offer shelter but also provide students with a unique opportunity to connect, collaborate, and form lasting bonds," Dr. Davis emphasized.
The university is also in discussions with local organizations to provide additional support services, including counseling and academic resources, to ensure that tent residents can focus on their studies without distractions.
However, reactions among students are mixed. While some applaud the innovative approach to tackling housing woes, others voice concerns about privacy and security. The administration has reassured students that comprehensive measures will be implemented to address these concerns and create a safe and conducive living environment for all residents.
In terms of cost, UCI has revealed that each tent will be priced at $900 per month, payable each quarter. While this fee includes basic amenities and the unique experience of living in Aldrich Park, it's important to note that the tents do not feature private shower or bathroom facilities. The pricing strategy aims to strike a balance between affordability and convenience.
UCI's decision to leverage Aldrich Park for temporary housing highlights its commitment to finding practical solutions to contemporary challenges. As the university takes this unconventional step, higher education institutions nationwide are watching closely to see if this innovative approach could set a precedent for addressing housing issues on campuses grappling with similar problems.